KingSpry proudly congratulates partners Jessica Moyer and Karley Biggs Sebia who have been named to the 2023 Power List in Law by the editorial leaders of Lehigh Valley Business.
The list was published on June 19, 2023.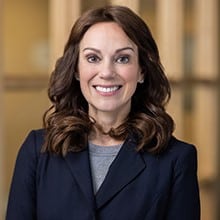 Jessica Moyer is the Managing Partner of KingSpry, where she oversees and manages the firm's operations and guides its strategic direction. She focuses her legal practice in family and education law.
A member of KingSpry's Family Law and Education Law departments, Moyer's practice includes all aspects of traditional and non-traditional family law, including divorce, equitable distribution, alimony, prenuptial and property settlement agreements, child support, child custody, mediation, and protection from abuse.
As assistant solicitor for numerous public school districts, Moyer advises school boards, directors and administrators, appearing on their behalf before state and local administrative agencies and courts. She gives back to her community volunteering as a trustee for the Foundation for Parkland Schools and an assistant field hockey coach.
Karley Biggs Sebia is a partner with the firm. She concentrates her practice in business and real estate law.
Ms. Biggs Sebia counsels large and small businesses on legal issues, including governance and formation, contract negotiation and management, human resources, risk management, corporate policy, compliance with federal and state laws and regulations, and sales and acquisitions.  She provides comprehensive legal services to assist clients in every stage of a real estate transaction, representing developers, businesses, non-profit organizations, public entities, and individuals.  And she also represents landlords and tenants in commercial and residential leasing matters and regularly represents housing authorities and affordable housing providers.