KingSpry congratulates Partner Kristine Roddick who has been named to the 2022 Power List by the editorial staff of Lehigh Valley Business.
The list was published in the March 14, 2022 edition of the newspaper and is available on their website at www.lvb.com.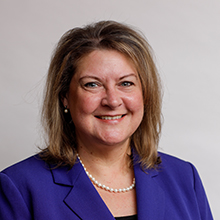 Kristine Roddick has been a partner at KingSpry and chair of the Special Education Law Practice Group since 2008. A member of the firm's Executive Committee, she served as Managing Partner of the firm for six years.
"Industry recognition is always wonderful, but in 2019, I was named a Zephyr Graduate of Distinction," she said, referring to the recognition awarded her by her alma mater, Whitehall-Coplay High School. "That honor meant a lot because it is important to always remember where you come from and be grateful for those things in life that help propel you toward your goals."
She has learned there is no such thing as failure. "Rather, there are teachable moments that take you forward, step by step, toward success," she said.