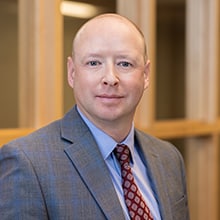 This list, which was published in the journal's October 9 edition, recognizes those who shape our communities and influence our quality of life by ensuring our access to safe and secure housing, buildings, roads and more.
Mr. Tranter is the Deputy Managing Partner with KingSpry and chair of the firm's Business and Real Estate Law Practice Groups. Mr. Tranter represents clients in business transactions, strategic planning, real estate transactions and development, corporations, banking, regulatory compliance and privacy matters. He serves as solicitor for the Lehigh Valley Economic Investment Corp. and is also a member of the firm's Facilities Committee.
He earned his Juris Doctor at Widener University School of Law and a B.A. in Economics from the University of Pittsburgh. Tranter is Board Chair of the Boys & Girls Club of Bethlehem, Past Chair of the American Heart Association of the Lehigh Valley and a member of the Friends of the Levitt Pavilion Board.